套件: lsb-release (11.1.0ubuntu4)
lsb-release 的相關超連結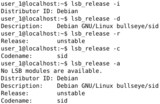 Trisquel 的資源:
下載原始碼套件 lsb:
維護者:
Original Maintainers:
Debian sysvinit maintainers
Dmitry Bogatov
外部的資源:
主頁 [wiki.linuxfoundation.org]
相似套件:
Linux Standard Base version reporting utility
The Linux Standard Base (http://www.linuxbase.org/) is a standard core system that third-party applications written for Linux can depend upon.
The lsb-release command is a simple tool to help identify the Linux distribution being used and its compliance with the Linux Standard Base. LSB conformance will not be reported unless the required metapackages are installed.
While it is intended for use by LSB packages, this command may also be useful for programmatically distinguishing between a pure Debian installation and derived distributions.
其他與 lsb-release 有關的套件
dep:

distro-info-data

information about the distributions' releases (data files)

dep:

python3

interactive high-level object-oriented language (default python3 version)
rec:

apt

commandline package manager