Paket: pioneers (15.6-1build1)
Länkar för pioneers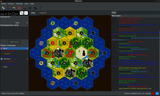 Trisquelresurser:
Hämta källkodspaketet pioneers:
Ansvarig:
Original Maintainers:
Roland Clobus
Bas Wijnen
Steve Langasek
Externa resurser:
Liknande paket:
Settlers of Catan board game
Pioneers is a computer implementation of the Settlers of Catan board game. It can be played over the internet.
The game includes a server, a client, a computer player, an editor and (in a separate package) a metaserver (for locating running servers).
Andra paket besläktade med pioneers
rec:

yelp

Help browser for GNOME