Pakket: gpodder (3.10.21-2)
Verwijzigingen voor gpodder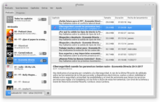 Trisquel bronnen:
Het bronpakket gpodder downloaden:
Beheerder:
Original Maintainers:
Externe bronnen:
Vergelijkbare pakketten:
podcast client and feed aggregator
gPodder is a podcast receiver/catcher. You can subscribe to feeds ("podcasts") and automatically download new audio and video content. Downloaded content can be played on your computer or synchronized to iPods, MTP-based players, filesystem-based MP3 players and Bluetooth enabled mobile phones. YouTube video feeds are also supported.
This package provides the "gpodder" GUI and the "gpo" CLI utility.
Andere aan gpodder gerelateerde pakketten
sug:

gnome-bluetooth

GNOME Bluetooth Send To app

of bluez-gnome

Pakket niet beschikbaar

sug:

mplayer

movie player for Unix-like systems

sug:

youtube-dl

download videos from YouTube and other sites (transitional package)