Package: plasma-wallpapers-addons (4:5.18.7-0ubuntu0.1)
Links for plasma-wallpapers-addons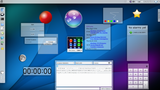 Trisquel Resources:
Download Source Package kdeplasma-addons:
Maintainer:
Original Maintainers:
External Resources:
Similar packages:
additional wallpaper plugins for Plasma 5
This package contains additional Plasma 5 wallpaper plugins that are used in the Plasma desktop.
This package contains the following wallpaper plugins:

 * Haenau
 * Hunyango
 * Picture of the Day
 * More coming soon..

This package is part of the KDE Plasma 5 addons module.
Other Packages Related to plasma-wallpapers-addons
Download plasma-wallpapers-addons