Package: kdeconnect (1.4-0ubuntu5+10.0trisquel1)
Links for kdeconnect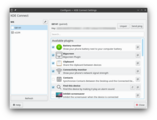 Trisquel Resources:
Download Source Package kdeconnect:
Maintainer:
Original Maintainers:
External Resources:
Similar packages:
connect smartphones to your desktop devices.
Tool to integrate your smartphone, Tablet, and desktop devices. Remote-control, share files, synchronize notifications, and more! At the moment it only supports Android-based mobile devices. Linux desktop devices are well-supported, with ports available for other operating systems.
Other Packages Related to kdeconnect
sug:

python-nautilus

Python binding for Nautilus components (DEPRECATED Python 2 version)