Package: mumble-server (1.3.0+dfsg-1ubuntu0.1)
Links for mumble-server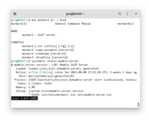 Trisquel Resources:
Download Source Package mumble:
Maintainer:
Original Maintainer:
External Resources:
Similar packages:
Low latency encrypted VoIP server
Murmur is the VoIP server component for Mumble. Murmur is installed in a system-wide fashion, but can also be run by individual users. Each murmur process supports multiple virtual servers, each with their own user base and channel list.
Other Packages Related to mumble-server
dep:

adduser

Package not available

dep:

debconf (>= 0.5)

Package not available

or debconf-2.0

Package not available

dep:

libavahi-compat-libdnssd1 (>= 0.6.16)

Avahi Apple Bonjour compatibility library

dep:

libc6 (>= 2.17)

GNU C Library: Shared libraries
also a virtual package provided by libc6-udeb

dep:

libcap2 (>= 1:2.10)

Package not available

dep:

libprotobuf17

Package not available

dep:

libqt5core5a (>= 5.10.0) [armhf]

Qt 5 core module

dep:

libqt5core5a (>= 5.12.2) [amd64]

dep:

libqt5dbus5 (>= 5.0.2)

Qt 5 D-Bus module

dep:

libqt5network5 (>= 5.8.0)

Qt 5 network module

dep:

libqt5sql5 (>= 5.0.2)

Qt 5 SQL module

dep:

libqt5sql5-sqlite

Qt 5 SQLite 3 database driver

dep:

libqt5xml5 (>= 5.0.2)

Qt 5 XML module

dep:

libssl1.1 (>= 1.1.0)

Secure Sockets Layer toolkit - shared libraries

dep:

libstdc++6 (>= 5.2)

GNU Standard C++ Library v3

dep:

libzeroc-ice3.7

Package not available

dep:

lsb-base (>= 3.0-6)

Package not available