パッケージ: plasma-browser-integration (5.18.5-0ubuntu0.1)
plasma-browser-integration に関するリンク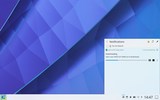 Trisquel の資源:
plasma-browser-integration ソースパッケージをダウンロード:
メンテナ:
Original Maintainers:
外部の資源:
類似のパッケージ:
Chromium, Google Chrome, Firefox integration for Plasma
Plasma Browser Integration is an extension for common browsers to closer fit into the Plasma shell. This includes:

   - Media Controls
       Lets you control video and audio players in websites using the
       Media Controller plasmoid, media keys on your keyboard, and
       even remotely from your phone.
   - Send links via KDE Connect
       Adds a context menu entry to links enabling you to send them
       to your phone and other paired devices.
   - Show downloads in and control them from Plasma's notification area.
   - Find browser tabs in the Run Command (Alt-Space) window
       Make sure the "Browser Tabs" module is enabled in Plasma Search
       (KRunner) settings.

その他の plasma-browser-integration 関連パッケージ