Paquet : wine64 (5.0.3-3+10.0trisquel2)
Liens pour wine64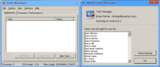 Ressources Trisquel :
Télécharger le paquet source wine :
Responsable :
Original Maintainers:
Ressources externes :
Paquets similaires :
Windows API implementation - 64-bit binary loader
Wine is a free MS-Windows API implementation. This is still a work in progress and many applications may still not work.
This package provides the binary loader for 64-bit Windows applications.
Autres paquets associés à wine64
dep:

libc6 (>= 2.17)

GNU C Library: Shared libraries
un paquet virtuel est également fourni par libc6-udeb

dep:

libwine (= 5.0.3-3+10.0trisquel2)

Windows API implementation - library
rec:

wine32 (= 5.0.3-3+10.0trisquel2)

Windows API implementation - 32-bit binary loader
sug:

wine64-preloader (= 5.0.3-3+10.0trisquel2)

Windows API implementation - prelinked 64-bit binary loader
Télécharger wine64
Télécharger pour toutes les architectures proposées

| Architecture | Taille du paquet | Espace occupé une fois installé | Fichiers |
| --- | --- | --- | --- |
| amd64 | 208,7 ko | 726 ko | [liste des fichiers] |