Пакет: nautilus (1:42.2-0ubuntu2.1+11.0trisquel3)
Връзки за nautilus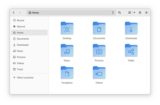 Ресурси за Trisquel:
Изтегляне на пакет-източник nautilus.
Отговорник:
Original Maintainers:
Външни препратки:
Подобни пакети:
file manager and graphical shell for GNOME
Nautilus is the official file manager for the GNOME desktop. It allows one to browse directories, preview files and launch applications associated with them. It is also responsible for handling the icons on the GNOME desktop. It works on local and remote filesystems.
Several icon themes and components for viewing different kinds of files are available in separate packages.
Други пакети, свързани с nautilus
dep:

bubblewrap

Пакетът не е наличен

dep:

desktop-file-utils (>= 0.7)

Пакетът не е наличен

dep:

gsettings-desktop-schemas (>= 3.8.0)

Пакетът не е наличен

dep:

gvfs (>= 1.3.2)

Пакетът не е наличен

dep:

libatk1.0-0 (>= 1.32.0)

Пакетът не е наличен

dep:

libc6 (>= 2.34)

Пакетът не е наличен

dep:

libcairo-gobject2 (>= 1.10.0)

Пакетът не е наличен

dep:

libcairo2 (>= 1.14.0)

Пакетът не е наличен

dep:

libdbusmenu-glib4 (>= 0.4.2)

Пакетът не е наличен

dep:

libgdk-pixbuf-2.0-0 (>= 2.25.2)

GDK Pixbuf library

dep:

libgexiv2-2 (>= 0.14.0)

Пакетът не е наличен

dep:

libglib2.0-0 (>= 2.70.0)

Пакетът не е наличен

dep:

libglib2.0-data

Пакетът не е наличен

dep:

libgnome-autoar-0-0 (>= 0.4.0)

Пакетът не е наличен

dep:

libgnome-desktop-3-19 (>= 3.17.92)

Пакетът не е наличен

dep:

libgstreamer-plugins-base1.0-0 (>= 1.0.0)

Пакетът не е наличен

dep:

libgstreamer1.0-0 (>= 1.0.0)

Пакетът не е наличен

dep:

libgtk-3-0 (>= 3.23.1)

Пакетът не е наличен

dep:

libhandy-1-0 (>= 1.5.0)

Пакетът не е наличен

dep:

libnautilus-extension1a (= 1:42.2-0ubuntu2.1+11.0trisquel3)

libraries for nautilus components - runtime version

dep:

libpango-1.0-0 (>= 1.44.6)

Пакетът не е наличен

dep:

libselinux1 (>= 3.1~)

Пакетът не е наличен

dep:

libtracker-sparql-3.0-0 (>= 3.1.1)

Пакетът не е наличен

dep:

libunity9 (>= 3.4.6)

Пакетът не е наличен

dep:

nautilus-data (= 1:42.2-0ubuntu2.1+11.0trisquel3)

data files for nautilus

dep:

shared-mime-info (>= 0.50)

Пакетът не е наличен

dep:

tracker (>= 3)

Пакетът не е наличен

dep:

tracker-extract (>= 3)

Пакетът не е наличен

dep:

tracker-miner-fs (>= 3)

Пакетът не е наличен
rec:

gvfs-backends

Пакетът не е наличен

rec:

libgdk-pixbuf2.0-bin

GDK Pixbuf library (thumbnailer)

rec:

librsvg2-common

Пакетът не е наличен
sug:

eog

Пакетът не е наличен

sug:

evince

Пакетът не е наличен

или pdf-viewer

Пакетът не е наличен

sug:

gnome-sushi

Пакетът не е наличен

sug:

nautilus-extension-brasero

Пакетът не е наличен

sug:

nautilus-sendto

Пакетът не е наличен

sug:

totem

Пакетът не е наличен

или mp3-decoder

Пакетът не е наличен

sug:

xdg-user-dirs

Пакетът не е наличен