Package: qemu-system-x86 (1:6.2+dfsg-2ubuntu6.11)
Links for qemu-system-x86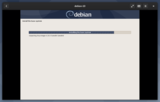 Trisquel Resources:
Download Source Package qemu:
Maintainer:
Original Maintainers:
External Resources:
Similar packages:
QEMU full system emulation binaries (x86)
QEMU is a fast processor emulator: currently the package supports i386 and x86-64 emulation. By using dynamic translation it achieves reasonable speed while being easy to port on new host CPUs.
This package provides the full system emulation binaries to emulate the following x86 hardware: i386 x86_64.
In system emulation mode QEMU emulates a full system, including a processor and various peripherals. It enables easier testing and debugging of system code. It can also be used to provide virtual hosting of several virtual machines on a single server.
On x86 host hardware this package also enables KVM kernel virtual machine usage on systems which supports it.
Other Packages Related to qemu-system-x86
dep:

ipxe-qemu

Package not available

dep:

ipxe-qemu-256k-compat-efi-roms

Package not available

dep:

libaio1 (>= 0.3.93)

Package not available

dep:

libc6 (>= 2.34)

GNU C Library: Shared libraries
also a virtual package provided by libc6-udeb

dep:

libfdt1 (>= 1.6.1)

Package not available

dep:

libfuse3-3 (>= 3.2.3)

Package not available

dep:

libglib2.0-0 (>= 2.39.4)

GLib library of C routines

dep:

libgnutls30 (>= 3.7.2)

GNU TLS library - main runtime library

dep:

libibverbs1 (>= 28)

Package not available

dep:

libjpeg8 (>= 8c)

Package not available

dep:

libnettle8

Package not available

dep:

libnuma1 (>= 2.0.11) [not armhf]

Package not available

dep:

libpixman-1-0 (>= 0.19.6)

pixel-manipulation library for X and cairo

dep:

libpmem1 (>= 1.4) [amd64, arm64]

Package not available

dep:

libpng16-16 (>= 1.6.2-1)

Package not available

dep:

librdmacm1 (>= 1.0.15)

Package not available

dep:

libsasl2-2 (>= 2.1.27+dfsg2)

Package not available

dep:

libseccomp2 (>= 2.1.0)

Package not available

dep:

libslirp0 (>= 4.0.0)

Package not available

dep:

libstdc++6 (>= 4.6) [arm64, armhf]

GNU Standard C++ Library v3

dep:

libudev1 (>= 183)

libudev shared library

dep:

liburing2 (>= 2.0)

Package not available

dep:

libzstd1 (>= 1.4.0)

Package not available

dep:

qemu-system-common (= 1:6.2+dfsg-2ubuntu6.11)

QEMU full system emulation binaries (common files)

dep:

qemu-system-data (>> 1:6.2+dfsg-2ubuntu6.11~)

QEMU full system emulation (data files)

dep:

seabios

Package not available

dep:

zlib1g (>= 1:1.2.0)

compression library - runtime
rec:

cpu-checker

Package not available

rec:

ovmf

Package not available

rec:

qemu-block-extra (= 1:6.2+dfsg-2ubuntu6.11)

extra block backend modules for qemu-system and qemu-utils

rec:

qemu-system-gui (= 1:6.2+dfsg-2ubuntu6.11)

QEMU full system emulation binaries (user interface and audio support)

rec:

qemu-utils

QEMU utilities
sug:

samba

SMB/CIFS file, print, and login server for Unix

sug:

vde2

Package not available